'Tis the season for peppermint bark!
By now, I think everyone on the Internet knows
how
we
feel
about chocolate-mint combinations: extremely positively. So obviously peppermint bark is the greatest part of December.
But
which
peppermint bark?
Well. Here are a few ideas.
These babies are from
Cocoanuts
, which we were raving about after our trip to Boston. They're like simple dark chocolate nonpareils, except with crushed candy cane instead of little sugar drops. Delightful.
This was a free sample from
Ghiradelli
. Not so good, my friends. The base is milk chocolate, and then there's a layer of what seems like white chocolate with peppermint flavoring in it. The texture was too creamy for me and just didn't have enough of that candy cane crunch. That said, Ghiradelli has an entire
Limited Edition Peppermint Bark
collection
, so it's possible one of the other products performs better.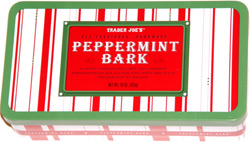 This is one of my favorite holiday treats: the
Trader Joe's
peppermint bark. I have not yet purchased a tin this year, which is why I have nothing to photograph for you. But it is a holiday classic: a layer of dark chocolate, a layer of white chocolate, and a layer of crushed candy canes. Perfection.
Who makes
your
favorite peppermint bark?